Bringing Coastal Management Expertise from Around the World to Institute Efforts for Coastal Ecosystem Solutions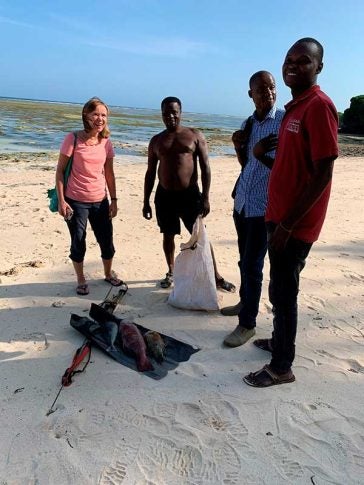 Elin Torell is set to serve as the next Director of the University of Rhode Island (URI) Coastal Institute (CI). As Director, she will continue the Institute's work of advancing solutions to environmental problems in coastal ecosystems by increasing understanding of the relationships between human activity and the condition of the coastal environment and its resources. She becomes the Institute's third Director, following current Director Judith Swift and founding Director Peter August.
"After working to strengthen women's leadership in coastal science and management overseas, I am excited to step into a position that will enable me to bring my international experience to address local coastal issues, and also to grow as a woman leader myself," says Torell.
Torell, who serves as Director of International Programs at the URI Coastal Resources Center (CRC), brings more than 20 years of experience in helping coastal communities and countries around the world, including several in East Africa and Southeast Asia, implement interdisciplinary science-based planning of marine resources tied to basic food and job needs. Through these efforts, she brings key interests to bear, such as "blue" economic development, gender equity and social inclusion, population, health, and environment, climate resilience, fisheries management, and environmental compliance, as well as significant knowledge of the application of evaluation tools to measure incremental and long-term project progress. Among her key projects: serving as the gender technical advisor for CRC's fisheries field programs and as principal investigator for the USD 28 million USAID Philippines Fish Right Program and co-investigator for the 15-million-dollar USAID Pacific OurFish OurFuture effort. She has also worked on several local efforts concerning topics like Rhode Island fisheries and the Narragansett Bay watershed ecosystem. In addition, Torell has served as the deputy director for the Fish Innovation Lab, a Mississippi based program focused on applied research solutions for food security issues, overseeing programming concerning human impacts as well as evaluation efforts. As she assumes her role as CI Director, she will continue to provide coastal management expertise to CRC and participate in specific projects.
With a PhD in environmental studies and a MSc in human and economic geography, Torell serves as an adjunct professor and graduate faculty in the URI Department of Marine Affairs. She is the recipient of the 2017 Woman of Achievement Award from the YWCA of Rhode Island and resides with her family in South Kingstown, RI.