Between a Trek and a Stroll: Pathways to a Career
This event is part of the 2022 Nixon lecture series, learn more about the Nixon lecture here
Join alumni of URI's Coastal Institute IGERT (Integrative Graduate Education and Research Traineeship) Project (CIIP) for a discussion of professional development, career challenges, and choices.
Lunch will be provided!
WHEN: Thursday, April 7th, Noon – 1:00PM
WHERE: Hazard A & B Rooms, Coastal Institute Building, Narragansett Bay Campus (in-person only)
RSVP: Please register here to join the discussion
QUESTIONS? Contact Nathan Vinhateiro at nvinhateiro@uri.edu
PANELISTS:
Abigail Anthony, Commissioner, Public Utilities Commission and Division of Public Utilities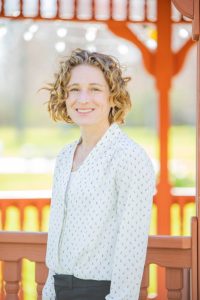 Abigail Anthony was appointed by Governor Gina Raimondo to the Rhode Island Public Utilities Commission in 2017. Commissioner Anthony is currently the Chair of the Commission on Energy Resources and the Environment of the National Association of Regulatory Utility Commissioners and the President of the Board of the New England Utility Cybersecurity Integration Collaborative. Previously, Commissioner Anthony was the director of Acadia Center's Grid Modernization and Utility Reform Initiative, and the organization's Rhode Island director. During her time as director of Acadia Center, she was appointed by Governors Carcieri and Chafee to the Rhode Island Energy Efficiency and Resource Management Council, where she served from 2010 to 2017 overseeing the implementation of the state's energy efficiency programs and policies. Commissioner Anthony is a lifelong Rhode Islander is especially devoted to serving as the president of the congregation of Temple Shalom, in Middletown, RI. She holds a PhD in Environmental and Natural Resource Economics from the University of Rhode Island. She received her MA and BA in economics from the University of Montana.
Anna Pfeiffer-Herbert, Associate Professor of Marine Science, Stockton University, NJ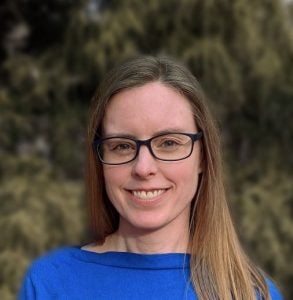 Anna Pfeiffer-Herbert is an Associate Professor of Marine Science at Stockton University in southern New Jersey. Her research interests focus on coastal ocean dynamics, especially estuarine circulation and applications to ecosystem function. Her current work involves teaching oceanography courses and mentoring student research, in addition to her own collaborative research. Recent research projects include monitoring a restored oyster reef, fluid dynamics of aquaculture gear, and integrating large oceanographic data sets into undergraduate curriculum. She also co-chairs a new graduate program in Coastal Zone Management at Stockton. Dr. Pfeiffer-Herbert received her PhD from the University of Rhode Island's Graduate School of Oceanography. She was a National Science Foundation IGERT fellow through URI's Coastal Institute in 2006-2008. Prior to her current faculty position, she was a postdoctoral researcher at Oregon State University on a multidisciplinary study of the Columbia River estuary.
Jason Krumholz, Senior Environmental Scientist at McLaughlin Research Corporation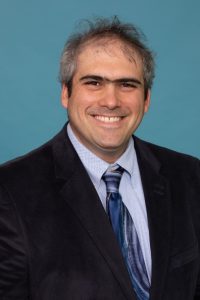 Jason Krumholz is a Senior Environmental Scientist with McLaughlin Research Corporation in Middletown, RI, where he serves as a subject matter expert for the U.S. Navy's Mission Environmental Planning Program. In this role, Dr. Krumholz works to minimize environmental impact from testing and training activities, ensure compliance with federal environmental laws and conduct original research aimed at understanding and mitigating the impact of Department of Defense activities on marine environments. Dr. Krumholz serves on the Research and Conservation Committee at the Norwalk Aquarium, the Climate Change Committee for the National Military Fish and Wildlife Association, and on the Greater Boston Research Advisory Group. He is the Chief Scientist for two small non-profits; The Reef Ball Foundation, which uses designed artificial reef technology to facilitate coastal restoration, and Slow No Wake, which works on marine debris removal and education in the recreational fishing sector. He is also a founding board member of Remote Ecologist, a non-profit organization designed to remove the barriers to participation faced by independent and unaffiliated research scientists. Dr. Krumholz holds a PhD in Oceanography University of Rhode Island.
Leslie Smith, Consultant/Business Owner, Your Ocean Consulting LLC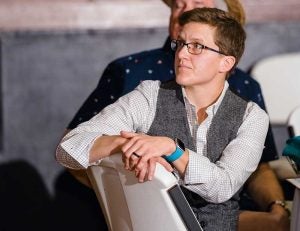 Leslie Smith is an oceanographer, science communicator, and entrepreneur. She founded and operates two companies – Your Ocean Consulting, LLC a consulting company dedicated to providing science communication and community engagement support to oceanographic programs; and Dive into the Ocean, Inc a non-profit focused on bringing ocean science into the classroom. A biological oceanographer by training, Leslie has built her career over the last decade supporting US-based and international ocean observing programs including the Ocean Observatories Initiative and the Tropical Pacific Observing System. Leslie currently serves as the Project Director for the United Nations-endorsed Deep Ocean Observing Strategy. Additionally, she supports communication efforts for several NASA satellite and modeling initiatives as well as data literacy projects with the Bermuda Institute of Ocean Sciences and Woods Hole Oceanographic Institution. She lives in the mountains in Tennessee with her wife, two amazing kids, two very fluffy cats, and energetic dog.
The discussion will be moderated by CI Assistant Director and CIIP alum Nathan Vinhateiro
The Coastal Institute IGERT Project was a five-year NSF-funded program at URI (2005 – 2010) aimed at developing effective leaders in multidisciplinary problem-solving in coastal ecosystems. Join our panelists to learn how elements of this program and their PhD research have shaped their career pathways.