The CI hosts an annual meeting in which the Fellows provide a brief update on their current research and how it pertains to the mission of the Coastal Institute and allows for cross-disciplinary discussion and insight to promote future successful research and funding efforts. In addition, the Senior Fellows enjoy a field trip to a destination that demonstrates successful coastal or watershed management with a special focus on historical, ecological, or societal significance.
---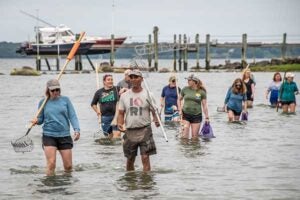 2023: NORTH KINGSTOWN QUAHOGGING
Senior Fellows learned the ins and outs of recreational clamming, including equipment needed and how-to. Long time professional quahogger Jody King shared his personal journey is storytelling format and Azure Cygler (Fisheries & Aquaculture Extension Specialist with Coastal Resources Center and RI Sea Grant) discussed management strategies that have kept Rhode Island in the quahogging industry for so long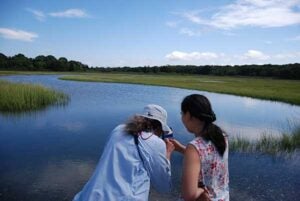 2022: PRUDENCE ISLAND RESERVE
Senior Fellows toured Prudence Island to learn about its salt marsh ecology, estuarine water quality, biodiversity, and land use. They also learned about the work of The Narragansett Bay National Estuarine Research Reserve providing long-term protection to coastal lands and the unique outreach and education programs offered on Prudence Island.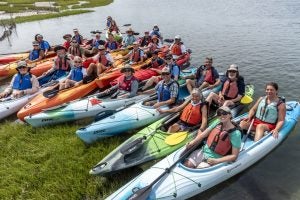 2019: NARROW RIVER WATERSHED
Senior Fellows learned about salt marsh restoration efforts led by the U.S. Fish and Wildlife Services along Narrow River and about oyster restoration projects by The Nature Conservancy in Upper Beach Pond. They had a guided tour of Casey Farm to learn about the history and green farming practices on the farmstead.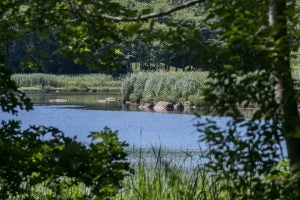 2018: WILD & SCENIC TAUNTON AND HISTORIC BLACKSTONE RIVERS
Senior Fellows learned firsthand regarding the efforts taken to gain national protections for the Narragansett Bay watershed's most important rivers. They traveled to Dighton, MA, to view the upper Taunton Wild & Scenic River and to East Providence, RI, for a National Park Service guided boat tour of the historic Blackstone River and Providence River.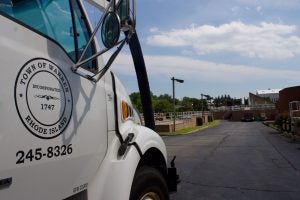 2017: SACHUSET POINT NATIONAL REFUGE AND WARREN, RI
Senior Fellows visited Sachuset Point National Refuge and toured the salt marsh restoration site and then traveled to Warren, RI to learn about the Warren mixed-use demonstration site and planning for sea level rise and storm surge at the Water Treatment Plan and Jamiel's Park.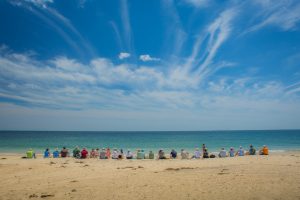 2016: NAPATREE POINT CONSERVATION AREA
Senior Fellows visited Westerly, RI and learned about the latest research on native plants and dunes, migratory shorebirds, social pathways, and more. The Coastal Institute is supporting research at Napatree Point as a demonstration site for the application and study of natural resiliency.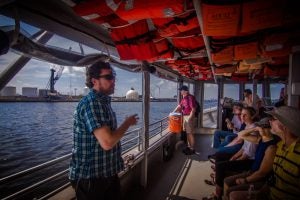 2015 TAUNTON DAM REMOVAL AND PORT OF PROVIDENCE
Senior Fellows visited the Hopewell Dam removal site on the Mill River in Taunton, MA and learned about fish and habitat restoration efforts as well as the adjacent brownfield site. Fellows also reviewed the Port of Providence from the deck of Save The Bay's M/V Alletta Morris.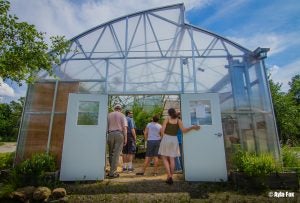 2014: SCITUATE RESERVOIR AND GRAFTON, MA
Senior Fellows toured the Scituate Reservoir and saw the challenges to providing clean drinking water to the majority of Rhode Island residents and the conservation efforts implemented in the adjacent lands. They also observed the Eco-Machine and Living Systems Laboratory in Grafton, MA, which employed an environmentally-friendly remediation method of a Superfund site.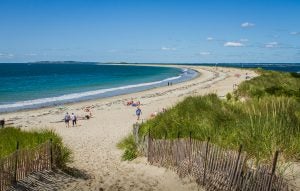 2013: NAPATREE POINT CONSERVATION AREA
Senior Fellows visited Westerly, RI, to learn the history of Napatree Point before and after the 1938 Hurricane, as well as the current conservation efforts. This provided insight to Rhode Island's unique cultural history as well as a glimpse of the challenges our coasts face from climate change.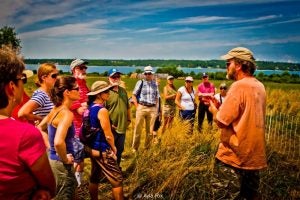 2012: JAMESTOWN, RI
Senior Fellows toured Watson Farm and Windmist Farm in Jamestown, Rhode Island. The sustainable practices employed by these two farms allowed Fellows to observe the healthy interface of agricultural and coastal sites.