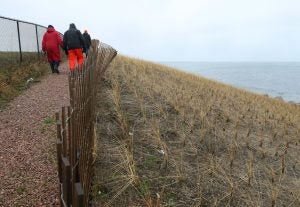 Coastal erosion has taken hold on many seaside communities, and caused residents to question the safety of our shorelines. Rhode Island has been greatly impacted by erosion, especially in the wake of storms such as Superstorm Sandy. From Barrington to Block Island, erosion continues to claim the shorelines, and force citizens inland…
Nearing the shores of West Beach, the Block Island Landfill is just one of many heavily eroded sites in Rhode island. Wind and storm surge washes its contents and loose sediment onto the beach and into the ocean. In an effort to protect the shoreline, the town of New Shoreham built a seawall buffering the site. However, experts believe that the seawall is only a temporary fix, as other conditions such as sea-level rise also threaten the shore.
While changing coastlines are completely natural, the loss of land area is not. Coastal areas are meant to be dynamic, and shift with the weather throughout the seasons. Nevertheless, factors like sea-level rise are intensifying this natural process, and not allowing the coast enough time to recover.
A continuous effort is being made to protect the shoreline in a more sustainable manner. The Nature Conservancy and the City of East Providence have formulated a plan to do just that. Their plan is to use natural resources to create salt marshes and barriers out of plants, logs, and rocks. The hope is that this will help the shoreline to strengthen itself against storm surge, and move with the surrounding environment.
As the future of Rhode Island's coastlines remains uncertain, more permanent solutions to coastal erosion are in the works. However, if a more global fix is not put in place, erosion will continue to impact Rhode Island.